The 5th step of the Floralife® 5 Steps of Fresh takes flower care outside the flower shop, to the end location of every hand tied bouquet or design arrangement. This step contributes to an unforgettable experience that a bouquet or arrangement has to offer.

What does properly dosed Flower Food in water do exactly?
It will correctly hydrate every flower
it contains sufficient flower food so the flower can bloom nicely
the water is clear after mixing
Why should anyone use adjusted flower food for certain flower varieties?
Not every flower variety will react the same on certain compounds. That's why Floralife® offers a special flower food treatment for certain varieties like roses.
For an optimal flower life we advice to buy the adjusted type of flower food. For mixed bouquets and arrangements we also offer a universal mix of flower food.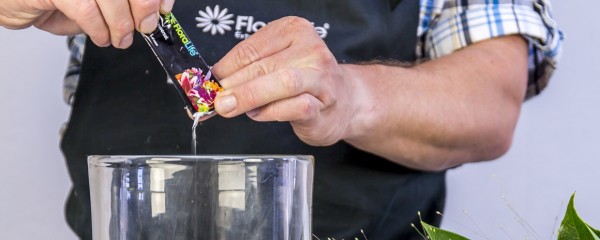 Why this cost is actually an investment and part of customer care:
The unique compound of flower food maximizes flower life, up to 14 days.
A lot of customers will be grateful if they can enjoy their arrangement or bouquet longer. This will probably make them buy another one in the future. The perception of value from the previous arrangement or bouquet is surely higher.

Your customer probably isn't aware of how to correctly dose flower food.
It's important to inform your customer on the correct usage. Using not enough flower food will limit hydration and nutrients. But also take care that the customer doesn't use too much flower food either. Only the right quantity of water for the used amount of flower food gives an optimal result.

Your customer probably doesn't think that flower food sachet size matters.
That's why it's a must to offer at least 5g or 5ml sachets for a medium bouquet in a medium vase. But we advice at least 10g or 10ml. This quantity is optimal for 1L of water. We see that a lot of people use at least 1L of water in each vase, even without considering the size of the bouquet.
Correct dosing: are you aware of it? Your customer probably isn't. So don't forget to help them, please! You don't want your customer to forget you either.