The following flowers (botanical names) and materials have been used:
Viburnum Opulus
Gerbera Bulls Eye
Rosa Rugosa
Wool cord
Step 1
Soak the OASIS® Ideal Cake Dummy in water enriched with Floralife® ULTRA 200 Clear flower food. Wait until it's fully soaked.
Step 2
Attach the OASIS® Pinholders in the middle of the glass plate with OASIS® Fix and place the OASIS® IDEAL Cake Dummy over it. Cover the sides of the cake with a wool cord by rolling the cord around it.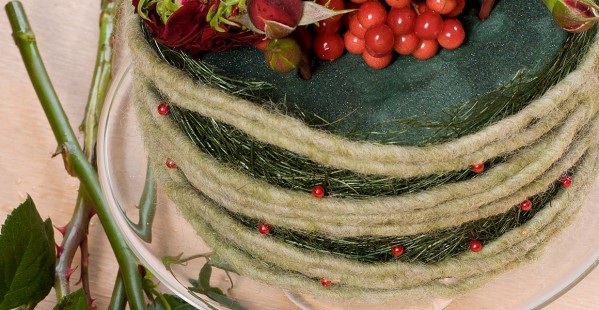 Step 3
Attach the wool cord with some red OASIS™ Corsage Pins. Start arranging all the green materials and flowers. Try to arrange the flowers as compact as possible.
Step 4
Finish the creation with a touch of OASIS® Easy Color Spray Pearl Glimmer. This can be sprayed on the entire arrangement.