The following flowers (botanical names) and materials have been used:
Rudbeckia
Viburnum Opulus
Hydrangea
Hypericum Androsaemum
Rosa
Rosa Rugosa
Step 1
Soak the OASIS® IDEAL Ring 25cm in water enriched with Floralife® ULTRA 200 Clear flower food. Wait until it's fully soaked.
Step 2
Attach the OASIS® IDEAL Ring to the base plate with OASIS® Fix and start filling the centre of the decoration with decorative grains in a rusty colour.
Step 3
Insert the flowers in the OASIS® Floral Foam in « Biedermeier » style. Divide all flowers and other materials so the end result looks like a warm, cozy color pallet.
Step 4
Finish the creation by spraying the OASIS® Clear Life on the entire arrangement.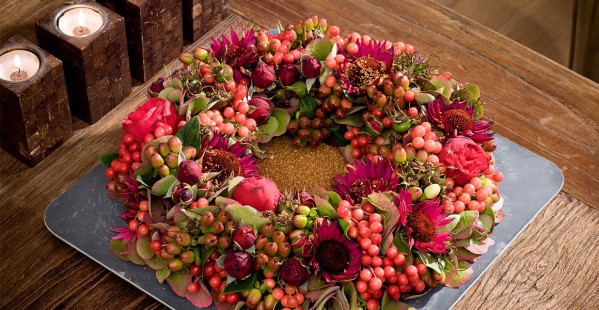 Design by Franky Bollingh