The following flowers (botanical names) and materials have been used:
Jute sticks orange
Jute sticks yellow
Sandersonia
Kniphofia "Alcazar"
Alchemilla mollis
Dianthus 'Bodega'
Rosa
Vanda "Orange Magic"
Dianthus Green Trick
Hypericum orange "Elite Amber"
Step 1
Cut two quarter moons from the OASIS® RAINBOW® Foam Cake Dummy Lime Green.

Step 2
Place the OASIS® RAINBOW® Foam Cake Dummy Tangerine in the centre after soaking it in water enriched with Floralife® ULTRA 200 Clear flower food. Then position both half moons on the sides. Press them gently on the OASIS® Pinholders which have been attached to the green base plate with OASIS® Fix.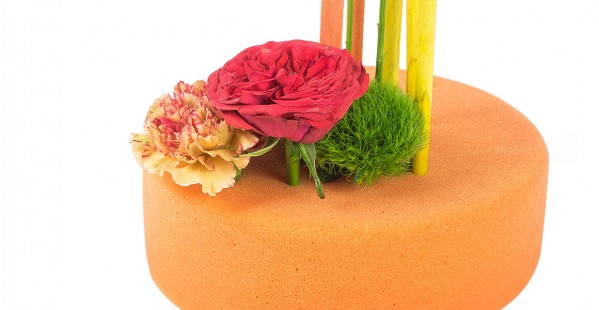 Step 3
Determine the height with the Jute sticks orange and yellow, then start to add the Sandersonia, the Kniphofia and a little bit of Alchemilla. At the bottom of the arrangements you can layer the flowers. First the Dianthus Green Trick, then use the Dianthus Bodega, Rosa and Hypericum.

Step 4
Finish by placing the Vanda's and scatter some sand around the arrangement.