The following flowers (botanical names) and materials have been used:
Step 1
Take the OASIS® Table Design Viva foam cylinder and soak in water enriched with Floralife® ULTRA 200 Clear flower food. Wait until it's fully soaked. Gently push the OASIS® Floral Foam Maxlife brick back into the container.

Step 2
Use the double-sided adhesive tape OASIS® Double Fix Clear to envelop the OASIS® Table Design Viva's lip. Remove the foil from the tape and press cuts of Formium foliage onto the tape.

Step 3
Then wrap coloured pearls on silver wire around the covered bowl. This provides a decorative touch and keeps the foliage firmly to the tape.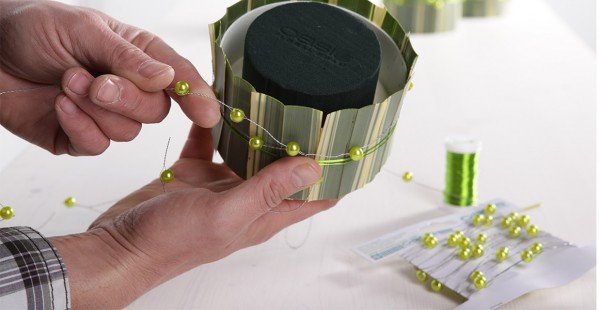 Step 4
Arrange asparagus fern and roses to the floral foam. Add a spiral made of OASIS™ Aluminum Wire Apple Green decorated with a pearls which gives the arrangement the finishing touch.